Run, Kitty!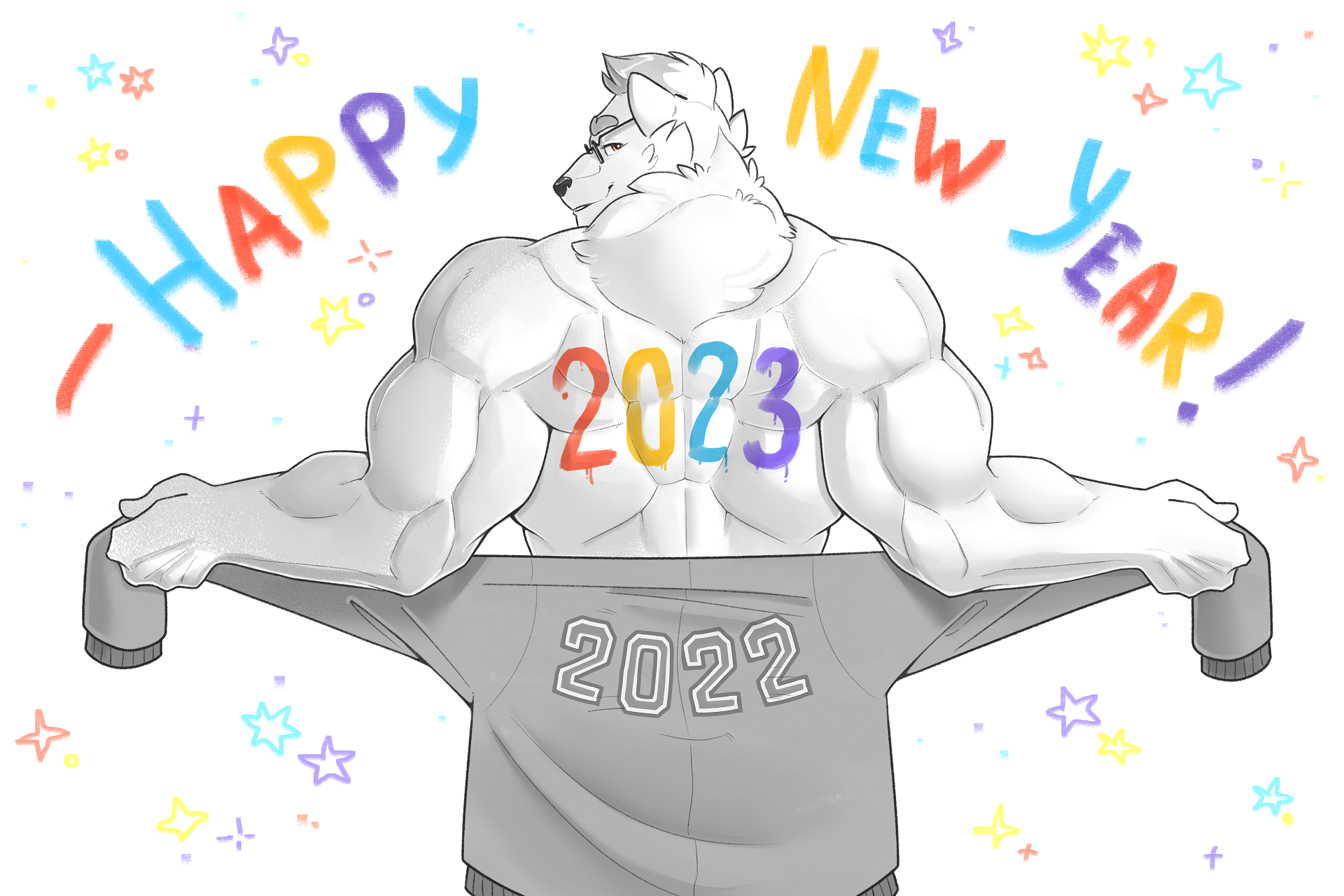 Hello, guys!
We congratulate you on the upcoming New Year.
We wish you happiness, health and all the nicest and best in 2023.💞
Our Stefan congratulates you really hard and hot too~ 💝
As always, we have an annual letter for you, where we sum this year up and talk about our future plans.
You can read it below:
====
Happy New Year to everyone!
Bertran Way, founder of the group and author of "Run, Kitty" here!
As always, my annual letter to you has become a kind of tradition.
So let me tell you in more detail what happened this year, and what are our plans for 2023 and future years.
I will not dissemble - I think not only for me, but for many too... This year turned out to be extremely unlucky. Not only because of world events.
This year, we practically did not release any content due to prioritization - we simply could not allocate our resources to creating art packs for Patreon.
But we have done something this year, and I think we are great fellows. Here:
🐶Stefan's Big Pleasure (YCH contest, winner is Eirizu) and fan fiction to it
📮YCH Slot (it's still not taken, but maybe someone might be interested!)
🍌New Friendship (new art with 30 variations on Gumroad)
🍭Richard on a bench 2 - Animation (Gumroad Award)
🔥Richard and the chocolate bar - Animation (current Patreon reward)
👑Art for social networks:
================
Two illustrations with Stefan for the sale of the game (Stefan Likes!)
Sketch for February 14th with Richard and Simon
World Peace Sketch (March 4th)
Illustration with Simon in honor of the payback of the game for half-anniversary
Illustration with Richard in honor of the first anniversary of the game
Sketch for Stefan's birthday 2022
Sketch for the New Year 2023
It turned out pretty well, didn't it?
We will try to make various arts for social networks next year, at least for the holidays (Valentine's Day, Halloween, Christmas, New Year and so on).
And now let's talk more about our Patreon, the new game and, of course, what will happen to us next.
Unfortunately, for the year 2023, we cannot provide you guys with any special rewards for your support on Patreon. Development blog, VIP blog, special art packs... This was all during the development of the first game, and now we have finished it, but we cannot please you with some big news about the next game. However, there is still some progress, and I will tell you about it a little later.
I will not put Patreon on pause, because you can still support us at any time, if you want. The reward for $10 tier (Furry's Lover) will be an Richard and the chocolate bar animated pack. Until we release a new reward. And I will definitely let you know when it happens! Thanks for understanding.
Our policy regarding Patreon rewards does not change - when we release a new art pack, the previous one opens on Gumroad for purchase. We have a lot of interesting things there, if you suddenly want to see!
Unfortunately, the only income for us now is Steam, because Patreon/Gumroad/ITCH and other stores cannot send us funds due to sanctions.
You can support us by buying the game on Steam, but we don't mind support through any other service or store! We hope that soon we will be able to solve the problems with the receipt of funds.
Basically, this is also one of the main reasons for the lack of content this year.
And we also celebrated the first anniversary of the release of "Run, Kitty!" in November, and it was just wonderful. Thank you for your support, because thanks to various discounts and promotions, the game continues to be sold, and this pleases us greatly! This helps us all a lot, especially in this incredibly difficult year, when it is important to take care of yourself and your loved ones.
Our players asked about additional scenes in the "Run, Kitty!". Actually, it would be very cool, but unfortunately, it's very laborious, even if you only do a couple of bonus 18+ scenes. We don't have that many resources at the moment to make these scenes, with current income.
We had certain plans to expand the audience of the game and translate it into a couple of other languages, but due to this difficult year we had to postpone them for some time. But we are still not giving up on this idea!
Yes, yes, I know you all want to talk about our new game.
So be it, it's time for facts and news about the second game, hooray! 🎶
All I can say at the moment is:
- The game has no name yet.
- There will also be two characters in it, as in the "Run, Kitty!" - the protagonist and the love interest.
- Your love interest will be bigger and more powerful than you, however, you yourself will be quite a shot! Let's say more than Simon!
- The game will be several times longer than the previous one. Accordingly, more plot, more art... And more adult scenes :)
- The game will have two routes - a friendly one and a love one. You'll be able to choose what you want. There will be many more choices!
- What kind of characters is a secret! But if you were very attentive, we hinted at this in certain posts.
- The general plot of the game is completely written. We are slowly working out a more detailed plot with a description of the actions of the characters, but without the dialogues and thoughts of the characters. A full-fledged scenario is still far away, of course.
That's it! There is undoubtedly progress. But even if we finish the plot in 2023 and start writing a detailed script, where it will be possible to organize work on the game, there will be a lot of serious issues that need to be addressed. Such as budget, management, distribution of responsibilities, the work itself, and so on...
But... We will solve problems as they come in. Let it be a new challenge, because the game will be more voluminous in development than the "Run, Kitty!", but we will overcome!
In general, the main point is that we are working on a new game, but very slowly. The main thing is that there is progress, albeit small! You didn't think that we would just shut down because of a lot of difficulties, did you? As if! ;)
It seems that's all the news I wanted to tell. I hope that next year will bring us more joy, happiness and pleasant moments.
I wish you all a Happy New Year and wish that you never lose heart, do not give up and go ahead, no matter what (we have been through this more than once)!
As for me... I want to find a good job in the New Year so that I can also devote more time not only to myself, but also to running Strong & Furry, ordering new art to please you with something pleasant. Maybe there will also be more fanfiction! ❤️
I understand that we have had very little news this year, but this is the reality. Let all the good things come true, and all the bad things go away!
Happy New Year! 🎉
Yours, Bertran,
Founder and Director of Strong & Furry
====
We wish you happy holidays, a wonderful mood and strong health, woof! Happy New year! 💫🎉🎊
Files
Run, Kitty! 1.0.3.zip
388 MB
Nov 30, 2021
Run, Kitty! 1.0.2.apk
380 MB
Nov 25, 2021