Run, Kitty!
"Run, Kitty!" 1st Anniversary Campaign
---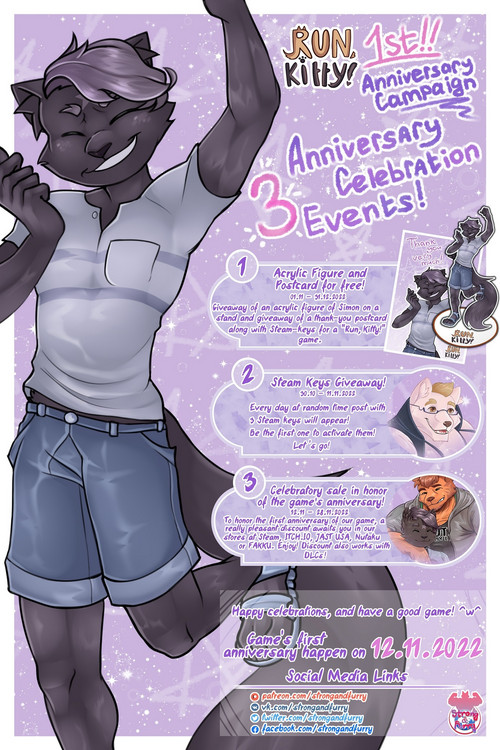 Happy upcoming Halloween, guys!
We have great news for you! ❤️
Starting tomorrow, we launch a new campaign to honor the first anniversary of "Run, Kitty!"
We have whole 3 events in stock, so you better turn on the notifications to not miss a thing!
1. Giveaway of an acrylic figure and postcard (01.11 to 31.12.2022)
======
We'll have a separate post for a giveaway of an acrylic figure and postcards of Simon along with Steam-keys for a game! There will be several winners, so everyone has a chance to win 💖
2. Steam key giveaway (31.10 to 11.11.2022)
======
Every day at a random time a post will appear in our group, containing three Steam keys. Whoever activates them first, is a good boy! Necessarily turn on the notifications about new posts📢
3. Celebratory sale in honor of game's first anniversary (12.11 to 28.11.2022)
======
We'll be holding a special sale, where you can buy a main game, soundtrack and an artbook with a discount! It will be held in all the shop that have our game - Steam, ITCH.IO, Nutaku, FAKKU and JAST USA.
All of these events will be held on three of our social networks - VK, Twitter and Facebook. Our address is the same everywhere, so you can easily find them (strongandfurry) 🧡
You can participate wherever you want, since the Steam keys will be different everywhere, just like the giveaway winners~
Repost, like and enjoy the pleasant bonuses! 😍
Aooph, happy anniversary, everyone~💪🏻
Files
Run, Kitty! 1.0.3.zip
388 MB
Nov 30, 2021
Run, Kitty! 1.0.2.zip
387 MB
Nov 25, 2021